Beaded Mask
This challenge is sponsored by The Beadin Path in Freeport, ME. My mask ws chosen for the poster, which I was very happy about. Check out the entire exhibition. The store sponsors a different challenge every year. This one has certainly been a challege for me as I've never designed a 3D image like this.
I didn't want the entire piece beaded and I wanted to include an enamel. This is what I came up with. See below for meanings...
Click here for a larger view of the mask.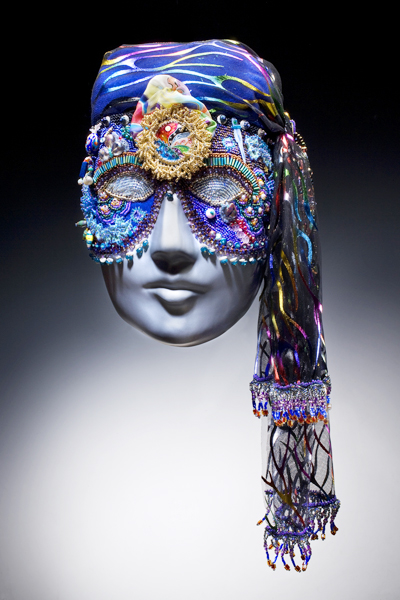 Transformations, A Self Portrait
The mask is how you present yourself at this moment in time. But to get to this point, one goes through many transformations – the least of which is growing from a baby to adolescence to adulthood. My concept of the mask has gone through many transformations, as has my life in the past few years.
I started with a theme of male and female. At first this was the "battle of the sexes", but I decided that I didn't want it to be combative so it transformed into "soul mates". But I was having a hard time coming up with the male side of the image and the piece transformed into "We all have a female and male side". I was starting to list female and male traits and the concept transformed into a "Self Portrait". That was a good start so I went to buy some fabric to get going. I found a gorgeous netting that had loads of colors (I am a color person) and when I held it to my mask, it looked like a 60's bandana. Well, NOW I was able to see my mask and I was really able to start working. Although I didn't wear a bandana when I was in college, I certainly was/am a 60s girl.
In the last few years, I have been taking Kadampa Buddhist teachings. This, coupled with reading the book, "A New Earth" by Echardt Tolle, has transformed the way I view life. This is not to say I'm enlightened or have no need to make further changes, but I have changed and am continuing to transform. Below describes what is included in my Self-Portrait…
Symbolism in my mask:
Bandana – I'm a 60s girl
I love:

lots of color, especially purple and teal
to enamel (the Cloisonné/Guilloche jewel, a 3rd eye)
metalwork (disks behind the glass rondelles in the black headband of the bandana; these were roll printed with a pattern I had etched and then I made the domed disks)
my favorite bead – Czech #61016 – it's the fuchsia lined/aqua overlay in the fan stitch
my favorite stitch – the fan
paisleys and beaded them in an abstract Yin Yang design on right side of the mask
to teach and help others: to represent this I used beads I got from a charity - Beads For Life, African women making and selling beads to make a living
butterflies which represent everlasting life

The 3rd Eye: spoken of as the gate that leads within to inner realms and spaces of higher consciousness
The 3 most important women in my life; all in the dangles from the Cloisonne bead on the right side of the mask:

my mother (bead from one of her pieces of jewelry)
my sister (pearls)
my daughter (Turquoise, her birth stone, and purple, her favorite color)

The most important man in my life: my husband (diodes because we both worked in computers and met at an old job)
Opal – my birthstone
Honoring my friends: Carol Anne who taught me to make the silk painted material behind the Cloisonné; Claudia who gave me the carved bone beads
The beads hanging from the knot in the bandana along with beads my new friend, Merle, and I bought together - these represent new friendships & women friends that are coming my way from all my transformations
I receive teachings from the Kadampa Buddhist tradition, which is represented by a 6-pointed star
Some felt is still showing on the right side of the face. I left it like that because I like the look, but also because it represents that my transformation is not complete.
Stone meanings:

Amethyst – used to open the spiritual and psychic centers
Apatite – is an inspirational stone. It develops psychic abilities and spiritual attunement. Use it to aid communication and self-expression.
Charoite – is a soul stone with deep physical and emotional healing energies. It is a stone of transformation and is used to overcome fears.
Garnet – helps protect one on trips and bring constancy to friendships. I travel a few times a year so this one is good for me
Lapis Lazuli – When working or meditating with Lapis Lazuli, it can bring matters more clearly to the mind.
Hematite – for grounding
Jade – strengthens your mental faculties and assists in clear reasoning. I used a faceted candy jade (green & pink)
Kyanite – to balance body/mind/spirit - align the charkas. Also represents Peace
Opal – Enhances your ability to communicate what is in your heart
Pearls – used to help tap inner wisdom and to nurture the growth of love
Rose Quartz – for love and self-love
Photo by Ralph Gabriner