Green Jean - The Go Green Goddess
This is a Recycled Denim Challenge by Viking Sewing Gallery at Joann's Fabrics in Middletown, NY. The goal is to make something out of used denim. It's due Nov 11 2007.
I decided to make a doll. Her name is Green Jean - the Go Green Goddess. I love making these dolls. Check out my others.
I had a pair of my daugher's old blue jeans with yellow stitched design that I decided to use on the back. Then I went to some yard sales and found the striped and the white denim. Voila - the doll is constructed of 3 types of denim. For her grocery bag, I took the blue denim and bleached some to get a tie dyed look. See below the doll for info on her symbolism.
Roll your mouse over the doll to see the back.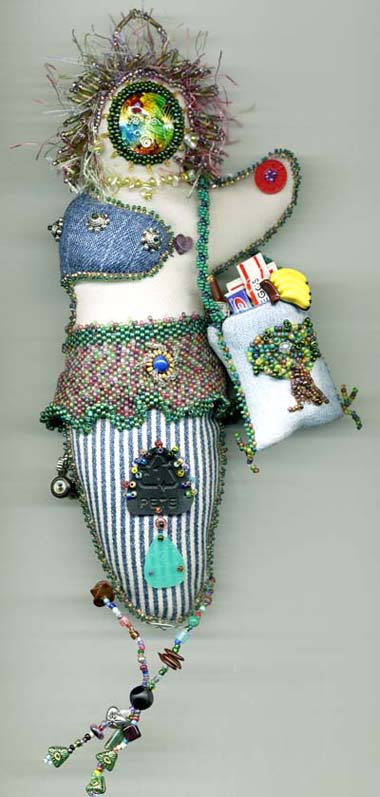 Inside Message:
Go Green
Enameled Face is on copper, using reticulated foils technique, unleaded enamels, gold decal and flower wafer and fine silver wires and ball.
Symbols:
Folded arm pledge: to always be green and help save the earth
Reuse:
• Recycle button: Levi's!
• Recycle symbols for plastics - 1 and 2 in a triangle
• Watermelon seeds: reused as beads
Charm for Recycle, Save The Earth
Charm for Recycle (on back)
The Future message: we are the future
Dove of peace: world peace would allow all of us to work together to save our planet
Save A Tree bag: shopping bag that allows us to not use extra plastic or paper
Bottle and can (on back): items to recycle
Semi-Precious Stone Meanings:
These stones are to aid in the world becoming GREEN.
Amazonite - A soothing and calming stone, it aids us in releasing worries and fears so that we may communicate from the heart and break through our boundaries. Helps to bring clarity of thought, and to deal with chaos and find a place of centered harmony.
Charoite - stone of spiritual transformation, allowing us to understand and heed the lessons we have brought upon ourselves and opening us to see spirituality in others and to recognize our connection with the All.
Garnet - helps dissolve negative energy. It speeds up manifestation by bring your creative energies to the forefront
Jasper - offers grounding and strength, and is recommended for those who wish to be in union with the earth.
Lapis Lazuli - helps you to access the unknown universal knowledge and have the wisdom to understand it. It helps expand awareness and intellect
Moss Agate - brings abundance, prosperity, and success. It is a stone that helps resolve and bring peace to a life with difficult responsibilities or duties
Onyx - can help you break undesirable patterns or habits. Enhances self control and self confidence. It assists with challenges in life, in particular those caused by a drain of energy
Opal - allow for true and spontaneous actions, helping to release feelings that have been pent up. This is a stone of creativity, encouraging the flow of creative energies.
Pearl - signifies faith and helps one to focus. It provides a vehicle for advancing states of wisdom and helps you be a clearer channel to receive spiritual guidance.
Rutilated Quartz - energizing stone that boosts energy and helps focus one's mental energies; said to be particularly effective for getting things moving energetically