Hair Ornaments and Shawl Holders
The items on this page are all hair ornaments, and some can be used for holding a shawl or open sweater closed. The Hair Sticks are at the end.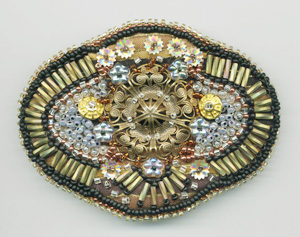 #2021 - Barrette
Filigree medallion, glass and metal beads, and holographic sequins.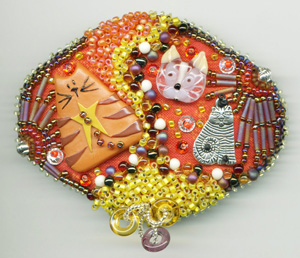 #2023 - Barrette
Cats galore - with one resin, one glass and one metal cat,
glass beads and Swarovski Crystal Sequins.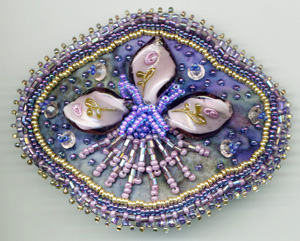 #2024 - Barrette
Purple theme using glass beads and vintage glass rondelles.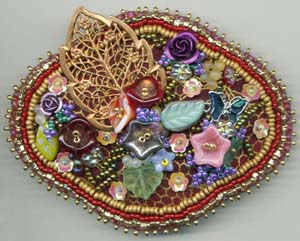 #2027 - Barrette
Red theme with flowers and a filigree leaf.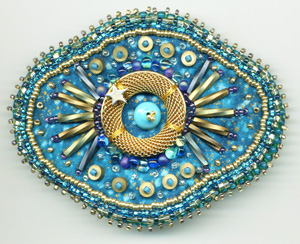 #2028 - Barrette
Turquoise theme with woven metal found object.
---
Back of Barrettes look like this: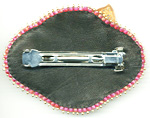 ---
These items can be either a Hair Ornament, a Shawl Holder, or a Scarf Holder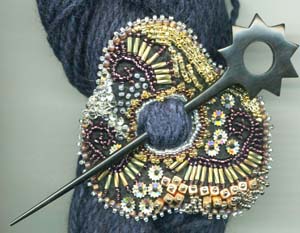 #2029
Glass beads and holographic sequins with ebony pick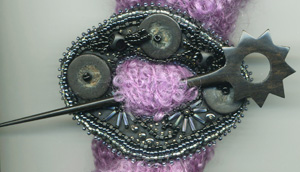 #2030
Glass beads, onyx and hemitite stone beads and coconut beads with ebony pick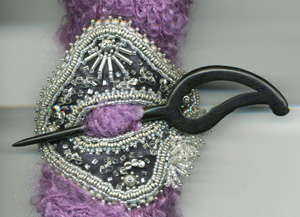 #2033
Glass and metal beads w/ ebony pick
Hair Sticks

Roll mouse over image to see close up of the detail

#2080
Blues/Greens glass beads on wood stick
about 8" long

#2082
Metallics glass beads on wood stick
about 8" long

#2083
Purple glass beads on wood stick
about 7.25" long