Goddess Dolls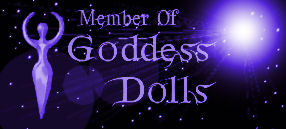 I joined this Yahoo group in 2009 and am having a lot of fun with it. We have swaps and challenges and, in general, share ideas and give encouragement.
I also make Spirit Dolls with messages inside for healing, friendship and more. And sometimes I create challenges that are other dolls.
Below are the dolls I've made for this group. Click on an image to see a bigger version and the back.