Sun Goddess
This multi-media doll was created for a challenge from my Goddess Dolls group. The rules were to create any goddess of the world or make up a goddess. My goddess is made up.
I also make Spirit Dolls.
Roll your mouse over the doll to see the back.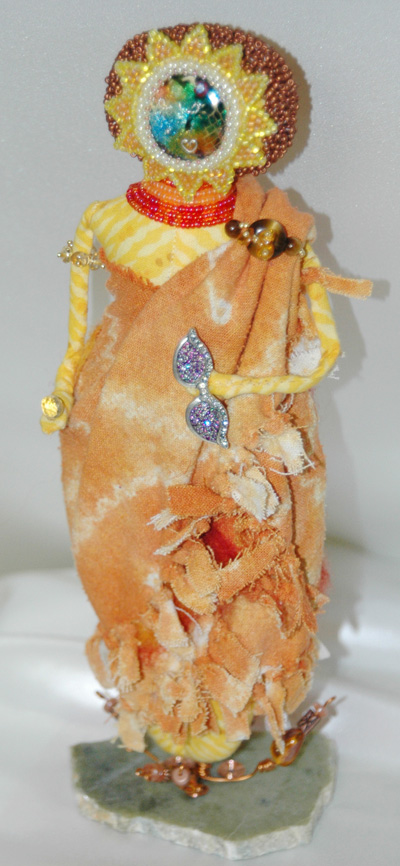 Sun Goddess
#1514; Dim: 10"h (including stand)
Saying Inside:

My power warms you, lights your way, and nourishes your soul.

Enameled Face

is on copper, using reticulated foils technique, unleaded enamels, gold decal, flower wafer and fine silver wires and ball.

Symbols:

Amber - energy of the setting sun; increases self worth, brings a care free, suny disposition and promotes good luck and success
Citrine - energy of the early morning sun - warm and light; increases self esteem, protects from the negative energy from somone else's abuse, opens the mind to new thoughts and promotes clarity of thought
Copper - enhances the energy field of stones
Sunstone - energizes with the strength of the sun; it is a protectivce stone
Tiger Eye - energizes with sun energy combined with earth

Misc:

Techniques used:

Bead Embroidery
Peyote Stitch
Brick Stitch
Needle Felting
Enameling
Japanese Shibori using stitched resist - a fabric dying method. I dyed her clothing using raw silk
Wire work

This goddess has two meanings - one is the normal diety meaning, and the other is the woman who is an avid sun bather (hence her sunglasses).
Sunglasses - a pin that can be removed and worn
Base is Jade which is used to attract love, strengthens your mental faculties and assists in clear reasoning, and is protectivce - guarding against accidents and misfortune (like a sun burn).