Machine Embroidery
In the last few years I've started doing machine embroidery. Although I do embroider on clothing, that is not the normal work I do. I try to make items that are unusual, and use the machine embroidery in my art work (like for my 2008-2009 Bead Journal Project which included a machine embrodiery on each piece).
Below are some of the unusual items I make. If you have an idea other than these, just email me - I'm up for a challenge.
Amost all of these are custom orders so email me with what you are interested in.
Checkbook Covers:
Similar items can be made like Passport or book covers.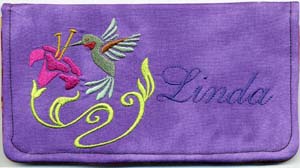 The inside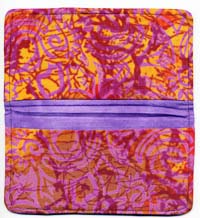 ---

Luggage Tags:

These can be any theme. The back has a clear plastic pocket for your name and contact information.


---

Bottle Aprons:

These can have any holiday or theme to them.




---

Tooth Faerie Pillows:

These have a pocket on the back to put the tooth and then the money.

---

Photo Ornaments:

---

Tissue Holders for a purse: