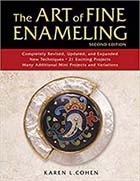 Information for enameling books is never really done; as Jean Vormelker says: the 3Ls - Life Long Learning. Thus, the TOC and projects listed below include links to new information or updates that were not able to make it into the book. In addition, I have listed any corrections to the book that have been reported. I look at myself at being the Archivist of Contempory Enameling in that I'm trying to document all new things I can find. To this end I am also listing links to enamel education - videos, on-line webinars and classes available.

I teach enameling at the John C. Campbell Folk School. If you are not already a member of The Enamelist Society or any other organizations, please consider joining. The Carpenter Art Enamel Foundation has transitioned.

Also, I'm heavily into beading, mainly Bead Embroidery. But I also work with other beading techniques. If you'd like to learn more about seed beads, see my Bead Knowledge Center. For all of you parents and grandparent, here is something to help you bond with the kids... my daughter and grandson started a YouTube channel about kid friendly foods - check it out: The Finnegan Clan.

Many comments are being made about all the new things described in the book. One person asked me how I found all these things. Read here about my philosophy in writing this edition.
Table of Contents
The TOC and Projects have many links with new information. If you are not sure where to find something, look in your book's index and see in which chapter that topic is described. Then, look for that chapter below and any link it has to new information. If you have something new you'd like to share, just contact me and we can discuss it. Enjoy the new info linked...
---
Projects
Photos from all the projects are shown below, but only those with updated information have links. More information for these might become available so please come back again. Links to the project artists are on the Overview page and not shown here again so the number of links is not distracting.