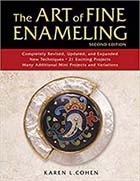 This chapter discusses how to finish your enamels with grinding and sanding for various situations, discusses the various enamel finishes such as sugar fire, mounting enamels onto something or other enamels, finishing metal and the Raku firing process, which is a finish to the Raku process.
Metal Finishes
Liver of Sulfur Tips and TrickS
If you want to use Liver of Sulfur and get great patina's in colors, not just black, watch this video by Pam East. The book
mentioned Liver of Sulfur, but not nearly in the depth that Pam goes into. Check it out!
Patinas For Small Studios, 3rd Edition
This Patinas For Small Studios, a 44 page book by Charles Lewton-Brain, provides many different ways to finish your metal. Charles is a well known educator and writer.