Alternative Firing Methods for Silver Clay
Not ready to invest in a regular kiln? You can fire metal clay in an Ultralite Kiln easily and affordably! This new youtube video will show you how.
Enameling with warm colors
First-rate reds, perfect purples, peerless pinks. Get ready for getting great results with warm colors on Art Clay Silver! This workshop will take you start to finish. You'll learn what to look for when constructing for enamels and how to get great results and shading with warm color leaded enamels. Unlock the full enameling spectrum! Pam will be teaching in CA, IL and NC this summer.
Chicago, IL ~ Art Clay World, USA
Brasstown, NC ~ John C. Campbell Folk School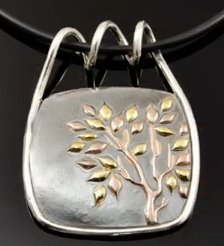 Gold Accent
Pam now has a video on adding gold accents to your metal clay.
Tools for Metal Clay
Pam has developed quite a few tools to be used with metal clay of all types and gives workshops. Check out her webstie for more information.