Enameling Classes

I've been enameling for over 30 years and have written the book - The Art of Fine Enameling. Here are some of the enameling classes I enjoy teaching. I specialize in Cloisonne, but create using various techniques.
I often combine my enamels with beading. Here is a series I creatd in 2010.
If you are interested in one of these or something that fits with my skills, please email or call 845-597-8386. Also contact me if you would like more photos of items made with these techniques.
Overview
These are setup for 2-3 day workshops. Other time frames can be accommodated
Cloisonne Enameling - Sparkling Color on Silver
Learn the ancient art of Cloisonné enameling where grains of glass are wet packed into cells created with delicate silver wires and then fused in a kiln. We will discuss metal preparation; working with a kiln; enamel properties, application, control and troubleshooting. Add color to your metal work or wear alone. A wonderful technique for those who love color. This class works on a fine silver base, but a silver PMC piece can also be used (speak to the Karen before class starts for details). Level: Beginner to Intermediate.
Champleve Enameling
Champleve is the technique of enameling in a depression. This workshop can be done with forming the depressions in one of two ways: etching or pierced and soldered. Thus, this workshop is perfect for a jewelry class who wants to expand their set of techniques to include color. If the basic metal piece is made prior to the workshop, this workshop need only be 1 day. I do not teach the pierced and soldered technique, but work with a jewelry instructor to get this done prior to class. I do teach the etching technique, which requires a previous few-hour day workshop before the enameling class. Level: Beginner and Intermediate
| | |
| --- | --- |
| | |
| Pierced and Soldered | Etched |
Basse Taille Enameling
Basse Taille is the technique of enameling transparent colors over a textured background. The texturing can be done a variety of ways. This workhsop can show how to texture by etching and/or roll printing. The colors can then be sifted or wet packed. This can be a 1 or 2 day workshop. Level: Beginner to Intermediate.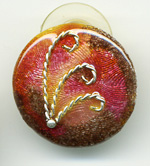 Roll mouse over image to the right to see a close up of the enamel which has been etched on copper.
The piece to the left is roll printed on silver and is one of a pair of earrings.

Enameling Fundamentals
Enameling: the art of fusing glass to metal at high temperatures. This is an ancient art form, pieces able to last virtually forever. Learn the basics in this hands-on workshop. We will discuss metal preparation; working with a kiln; enamel properties, application, control and troubleshooting. Several techniques will be learned such as, but not limited to, sifting, wet packiing, applying other materials such as foil, sgrafitto, and use of liquid enamels. The student will come away from class with an appreciation of the medium and what is needed to enamel at home. Level: Beginner

Gin Bari Foil
Gin Bari is an embossed foil technique. In this class we learn how to emboss the foil and adhere it to our metal (usually copper). If forming your own embossing plate is desired, then this needs to be a 2 day workshop. Level: Beginner to Intermediate