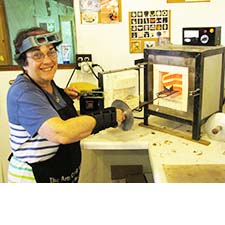 Thank you for viewing my artwork. My index below is broken into categories so that you can more easily view those items of interested. As these pages are image intensive, please bear with the loading time.
If you would like to purchase an item, please note its code number and contact me for pricing, referencing this code number. Payment can be via check or PayPal. Commissions/custom work are accepted. I also donate pieces to various charities and groups.
I teach children at summer camp (Camp Med-O-Lark) - see me at our camp kiln to the right, and adults at the John C Campbell Folk School in the Spring. I do a few Button Shows a year, as today my main work is making Studio Buttons for Button Collectors.
In the slide show at the right, a few of the beaded and cloisonne jewelry is a collaboration with my sister, Susan Jo Rochlin, who did the beading; other beaded pieces I did myself.
Table of Contents:
---
Buttons

I make Studio Buttons in a variety of techniques - beaded, enameled, metal, and felt. The beaded and felted ones can also be worn as pendants or pins.

Enamels and Metalwork

Artist Trading Cards - enameled and beaded

Jewelry

Other

Jewels only
Items ready for a custom setting that can be used in various types of artwork like beading or metals.
Wall Pieces
Some with wearable parts
Flatware - serving pieces
Tiles or Table Displays
These can be made into wall pieces or sit on an easel. They can also be embedded in the back splash of a counter.
Boxes and more
with cloisonne

---

Beadwork

I have become a bead freak! I really enjoy bead embroidery and sculptural peyote around objects, like a rock! I was totally inspired by Robin Atkins, who makes beautifully beaded pieces. I make some beaded jewelry, but in general, I make other type of items like wall pieces (some with wearable parts) and accessories like purse mirrors.

Jewelry

Other

Challenges

I like to get involved in beading challenges and projects. Here are some of them...

---

Dolls

Spirit Doll
Dolls with messages inside for healing, friendship and more
Goddess Dolls I've made for this group - swaps and challenges
I also have Doll Faces for use by any doll maker.

---

Needle Felting

There are a few different felting techniques. Currently I have only been needle felting, but hope to try the friction method in the future. I really like this technique - it's like painting with fiber.

Soon I will be dying my own "silk hankies" which are also used in felting. This goes along with the silk ribbon I dye for my ribbon and bead embroidery.

Buttons - can also be worn as pendants or pins
Accessories - eye glass cases, pouches, purses and more
Purse Mirrors that are small works of art for your coffee table or to carry in your purse



---

Other

Gourd Art
Note: the pictures with graduated backgrounds were taken by Photographer Ralph Gabriner.
I belong to the following webrings. After viewing my work, why not check these links out?
This site is a member of WebRing. To browse visit
here
.