Bead Journal Project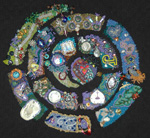 In 2007, this project was started by Robin Atkins for bead embroiderers. Each month we made a new piece for our journal which was to show, in beads, a part of our lives. Robin decided to continue the BJP in subsequent years. I have been a participant since the beginning. The 1st year i journaled my life. In subsequent years, I have chosen a theme to help expand my artwork. Read about each year below to see what the themes have been.
2007 BJP went from June 2007 to May 2008 - sprial composition - completed
2008 BJP went from Sept 2008 to Aug 2009 - 5" mirrors - completed
2010 BJP - went from Jan to Dec 2010 - Round Peg in a Square Hole - completed
2011 BJP - January 2011 - Dec 2011 - ATCs - completed
2012 BJP - January 2012 - Dec 2012 - Extra Large Stuio Buttons - completed
2013 BJP - January 2013 - Dec 2013 - -Large Studio Buttons - Celebrating holidays - only thru Aug
Project members share their ideas, thoughts, etc at the Bead Journal Blog. I will share mine here, too. Just click on the links in the years list above to see what I've done.
My background is varied: I started adult life as a math teacher for 3 years. Then went back to school for a Masters in Computer Science and worked for AT&T Bell Labs in development for 11 years (hold a patent on something I developed there). Next I went into a computer business with my husband, writing software for national sales, including laser fonts, and we had a service called The Digital Identity where we developed logos and signatures as fonts. All this time I worked with my artwork as a metals jeweler and enamelist, making one of a kind pieces. When I retired, I started teaching enameling and worked every summer at Camp Med-O-Lark, an arts camp in Maine. One summer I set up their bead studio and, voila, became a bead freak. That was in 2006. So I've only been beading since then and have become a total bead freak, specializing in Bead Embroidery. I learned from all of Robin's books which I totally recommend.
I also make enameled and fancy metal pieces I call jewels as they would be worked with like any stone cabochon. If you are interested in purchasing for your own work, check these out... some are for center pieces, some are doll faces, most are enameled, some are etched and some are fancy metal work like Kuem Boo and Mokume Gane.
Have a beady good day!