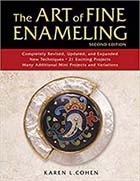 The Enamelist Society (TES) started as a national organization for enamelists, but has grown to be international. We hold a conference every two years with workshops and an exhibition. The lastest conference was in July/August 2019.
On Aug 5, 2019 I got back from the bi-annual conference and had so much fun and learned new things (for ex: I took a workshop on electroforming). it's so great to meet new enamelists and visit with ones I've known for years, but rarely see. One of the really exciting activities at the conference is the Pin Swap - I made 24 pins and ran out quickly. This is a way to get other enamelists work and so many pins were so innovative.
Alchemy 5 Exhibition
The juried exhibition was a delite to see. Ten of the pieces in the show are shown in my book. One won Best of Show! I'm not showing the photos here, but these are the ones in my book:
pg 27, Photo #93 by Jessica Calderwood
pg 121, Photo #284 by Katy Bergman Cassell (the image that inspired me to take the electroforming class!)
pg 53, Photo #154 by Pricillia Frake. A full photo is shown below as only a detail is in the book
pg 221, photo final porject photo by Mi-Sook Hur
pg 152, photo in upper right corner by June Jason
pg 259, Photo #622 by Alisa Looney
pg 242, Photo #575 by Amy Roper Lyons, Best of Show
pg 52, Photo #146 by Jeanie Pratt
pg 243, photo #579 by Fay Rooke
pg 235, Photo #557 by Mary Asplund Stafford
Pin Swap
Come back another time - when I mount the pins I swapped for I'll show them here. Click here for pins that Cherly Anne Day-Swallow collected.