Welcome to my Button Home Page (The Index). This page has definitions and links to all other pages so it can be used as a site map for my Studio Buttons. I have been creating Studio Buttons since 2009 and far have created over 1,300 buttons. I wor k in enamel, beads and metal to create a few different types of buttons. I also sell for other Studio Artists so check out the list below.

My family business, Synthetic Plastics Corp (SPC), was in plastics (surprise!) and one of the product lines was buttons. As it was a family business, new buttons were named after family members. So there is a Karen button in the world. See it at the left. Here is more info on SPC and their products. As you can tell, my interest in buttons started a long time ago, but I never collected them. Now I make them!
This site has no shopping cart - to order, ask questions, or inquire about custom work, email me. it is important to provide the button number with an inquiry - each button has an unique number. I usually respond within 48 hours. If you don't hear from me, please call me (845/597?8386).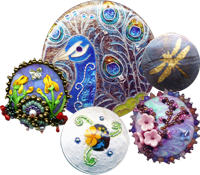 For all of you parents and grandparent, here is something to help you bond with the kids... my daughter and grandson started a YouTube channel about kid friendly foods - check it out: The Finnegan Clan.
Buttons Table of Contents
Buttons by: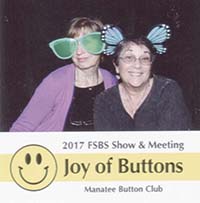 Note: I have separate listings for available buttons and archived buttons (those that have already sold) in addition to closed editions/sets. Please be mindful of which page you are viewing to see what is available.
Buttons by Karen L. Cohen:
Buttons by Paulie Rollins:
Pauline Rollins loves to play with colors in any form, from watercolors, pencils & pastels, to acrylics & oils. Her artwork can be found in private collections around the world and in several publications. Paulie creates a few different types of buttons, all gorgeous with her wonderful artwork.
jb Ebert Buttons
Miscellaneous
About Me and My buttons
All my buttons are backmarked with my KC stylized signature and, if large enough, also include the year of creation and my button number. Each comes with a card of authentication that describes the button with all it's OMEs and techniques.
My art is guaranteed for quality - if you receive one and don't care for the quality, then just return it within 7 days, in the same condition, for a complete refund (minus shipping and insurance charges). Note that I have a beaded sewing needle case in the permanent collection in the decorative arts section of the Newark Museum.

I am a member of the National Button Society and the following state societies: FL, PA, NJ, NY. This is a truly amazing hobby. I make Studio Buttons, those little pieces of artwork that are made specifically for Button Collectors. I normally do the following shows: NJ, NERBA, FL and sometimes OH and PA and sometimes National.
Custom orders accepted. I also make Healing buttons and Survivor buttons with messages inside the button. Just email me with questions, requirements for custom work or if you want to purchase.
Here are some interesting buttons I've collected.
Looking for a non-button gift? Check out my other artwork.
Items that include buttons - jewelry and more...
Group Definitions:
Many of my buttons are one-of-a-kind. But I also have groups of buttons that go together. Here are the definitions of the groups that I create:
Series is a group of buttons that have the same elements but are all one of a kind (ex: Sillken Rock Garden - they all have glass "rocks", silk ribbon flowers and a crystal butterfly)
Open Series is a group of buttons with the same basic design (includes similar objects), but may be different sizes and will have different focals. (ex: Buzz - they all have a bee, honeycomb and flowers).
Set is a group of buttons with a central theme, but all are different and thus one of a kind (ex: Holiday Celebration - all holidays, but all different)
Limited Edition is a group of buttons that are the same design, but the colors may change and the elements might differ like two different type of fish beads (ex: Cherries Jublilee).
Open Edition is a like a Limited Edition except there is no upper limit. The reason for this is that I'm not sure how many of the focal I can get so I'm keeping it open.